Start your new embroidery adventure
with these spectacular package deals!
Discover new paths to creativity with the Baby Lock Aventura II sewing and embroidery machine. Powered by Baby Lock IQ Technology TM, the Aventura II makes every step easier. Create your own designs and load them onto the machine with two-way USB connectivity or any of the 181 of built-in designs and editing features.
. . . . . .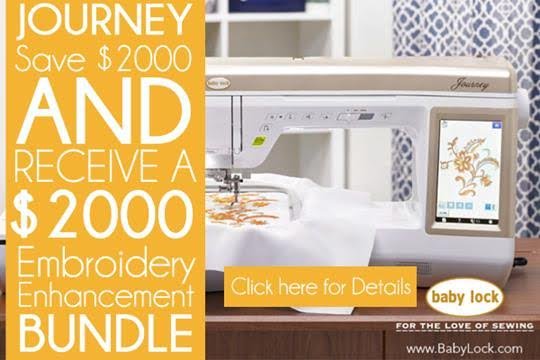 Begin your next embroidery voyage with the Baby Lock Journey. Explore unknown territory with 262 embroidery designs. Embroider them all, big and small with embroidery hoops as large as 7" x 12".
---
Enjoy FREE online sewing classes
from the comfort of home!
Some tips for signing up...
1) When entering your machine's serial number, do not include the hyphen
2) If you are not able to sign up, it may be because your Baby Lock machine has not been registered in your name. You can either register it yourself or contact us at creativesewingcenter@gmail.com for assistance.