Kimberbell's blank zipper pouches make adding embroidery to your projects super easy!

The zipper is already inserted and the sides are serged and ready for you to quickly sew together after you've added your embroidery or embellishment.

- - - - - - - - - -

Make the "Man Bag" for a special guy in your life!




The man. They myth. The legend.

Kimberbell's May Fill in the Blank design transforms a Felt Zipper Pouch Blank into a handy travel kit for "man"datory supplies! Add Embroidery Leather for the sturdy handle, sleek bottom, and mustache design, then stitch the proud "Man Bag" sentiment.

From snacks to "man"icure sets, Kimberbell's Man Bag is perfectly sized for those small, essential items a guy simply "must-stash."

- - - - - - - - - -

You must purchase the Olive or Heather Grey Small Felt Zipper Pouch Blank in order to receive this FREE Man Bag design.

You will get the instructions and files for both machine embroidery and sewing to complete this design! These files can be emailed to you, or you can bring in a USB drive to our store and we can load them for you. (Please allow 24-48 hours for us to email this to you.)

You will also want a tube of Embroidery Leather to finish your bag. (One tube is enough for 2 Man Bags.) There are multiple leather colors to choose from!

- - - - - - - - - -

We will be hosting a "Tips & Tricks" session on how to complete this project!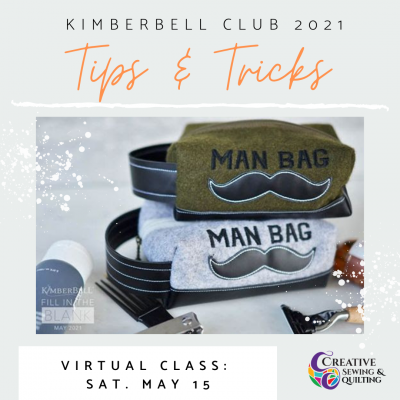 Sat. May 15 from 9:30am - 10am. It is $5 to sign up, or FREE for 2021 Kimberbell Club members!
(Kimberbell Club members do NOT need to sign up - you will be automatically emailed your invitation.)

Not a member of our 2021 Kimberbell Club yet?
Learn about the perks!