CLOSING AT 3PM TODAY
(Thurs. 1/11)

Due to the freezing rain and icy road conditions expected today, we will be closing early to ensure all staff and customers have a safe ride home.

Thank you for understanding!
---
Start your new embroidery adventure
with these spectacular package deals!




Discover new paths to creativity with the Baby Lock Aventura II sewing and embroidery machine. Powered by Baby Lock IQ Technology TM, the Aventura II makes every step easier. Create your own designs and load them onto the machine with two-way USB connectivity or any of the 181 of built-in designs and editing features.



. . . . . .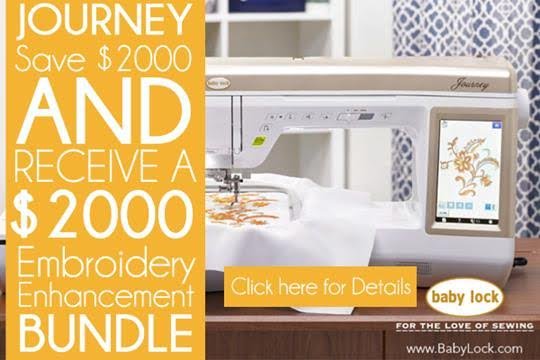 Begin your next embroidery voyage with the Baby Lock Journey. Explore unknown territory with 262 embroidery designs. Embroider them all, big and small with embroidery hoops as large as 7" x 12".
---
Enjoy FREE online sewing classes
from the comfort of home!





Some tips for signing up...



1) When entering your machine's serial number, do not include the hyphen

2) If you are not able to sign up, it may be because your Baby Lock machine has not been registered in your name. You can either register it yourself at or you can email creativesewingcenter@gmail.com for assistance.

---
CLASSES
---
Still Time to Sign Up!
One Fabric Kaleidoscope Quilt
NEW Start Date: Thurs. Jan. 18
2 Thursdays:

Starting Jan. 18
11am - 1pm

(2nd date TBD at 1st class)
Class fee $48
Kit $99
Turn a border fabric into a stunning 62" x 62" Kaleidoscope quilt. Learn how to assemble the kaleidoscope block and create mitered borders. Class meets for 2 sessions.


Learn more...
---
Common Grounds Mug Rug Set
Thurs. Jan. 25
10:30am - 12:30pm
OR
Sat. Jan. 27
1:30pm - 3:30pm
Class fee $20
Kit (required) $12
Make these mug rugs in one class session. Learn how to use a square-up ruler, fussy-cut ruler, and insert fusible batting.
---
Destiny Club: "Let Me Call You Tweetheart"
Thurs. Feb. 1
1pm - 4pm
OR
Sat. Feb. 3
10am - 1pm
Class fee $30
This is the 3rd and final installment of this Destiny Club project! You will create the "love" banner and complete the top of your wall-hanging.
---
Binding 101
Thurs. Feb. 15
10:30am - 1:30pm
Class fee $35
Kit (including pre-quilted fabric) is an additional $15
Learn how to bind your quilted projects. You will learn how to cut both cross grain and bias binding strips and prepare them for binding.

Try out two different ways to attach your binding to your quilt (we provide pre-quilted fabric for you), and learn how to miter the corners.


Learn more...
---
Binding 102
Friday, Feb. 23
10:30am - 1:30pm
Class fee $35
This is the second class in our binding series. Adding onto the skills you learned in Binding 101, you will learn how to apply flange and piping hot binding.
Learn more...
---
Mexican Stars
3 Wednesdays - Feb. 28, March 7 & 14
2pm - 4pm
Class fee $60
This beautiful wall-hanging is made with straight seam piecing that results in a curved look. We'll show you how to use a non-permanent glue stick to help with construction.

Finished wall-hanging measures 34-1/2" by 34-1/2".
Learn more...
---
Jingle All the Way
Embroidered Quilt
Block of the Month Quilt
Beginning February 2018
Tuesday series and Saturday series
See our website for list of dates
Class fee $200 at sign-up or $30 per session (10 sessions)
This block of the month quilt includes plenty of embroidered applique details that add Christmas magic!

Over 10 sessions (Feb. - Nov.) you will construct the top of this quilt. Kits are available - choose a border fabric with white or black background. Kits also include extra details like vinyl (for the snowglobes) and mylar (for the strand of embroidered lights).