Check out these great holiday specials on Baby Lock machines!



---

An incredible value...
a sewing machine with 12 inch work space for only $699!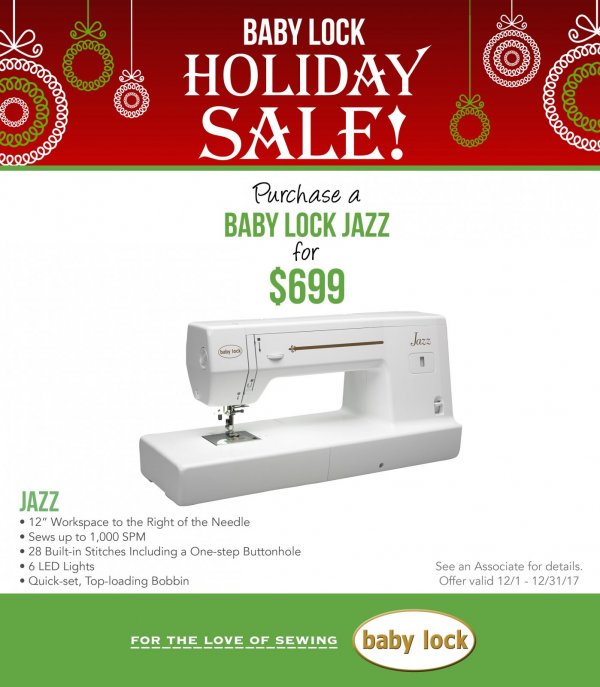 ---

Get a FREE software package with your new embroidery machine!


---
REBATES on select Baby Lock sergers!
$200 rebate on Evolution
$150 rebate on Enlighten
$100 rebate on Imagine
---


This machine produces a unique stitch that looks just like hand-quilting.
So much creative potential!


---
CLASSES
---
Saturday Serger Club: Tool Caddy
TOMORROW - Sat. Dec. 9
Saturday, Dec. 9
10am - noon
Class fee $20
(Kit $22)
Make this compact and stylish caddy to keep your sewing tools handy. Practice using the overlock stitch, chain stitch, and safety stitch. Caddy is two-sided and easily slips over a 5x7 free-standing frame (included in kit).
Kits contain enough supplies to make 2 caddies - Make 1, Give 1!
Learn more...
---
Beginning Quilting 101
Saturday Series begins Jan. 6
Monday Series begins Jan. 8
Class fee $60
Learn quilting techniques with this first class in our beginner's quilting series. You will learn how to quickly and accurately use a rotary cutter, piece strips together with a quarter inch seam, square up blocks, and add borders to your quilt top.

This class meets for four sessions. At the end of class you will have a completed quilt top.
Learn more...
---
Beginning Quilting 102
Totally Tulips
4 Thursdays - Begins Feb. 22
Class fee $60
This is the second class in our Beginning Quilting series. In addition to refining the skills you learned in Quilting 101, you will also learn how to piece 1/2 square triangles, assemble different types of blocks, and add sashing.

At the end of this class, you will have completed the top of this quilt.
Learn more...
---
Learn to Quilt Your Project
Wednesday, Jan. 10
1:30pm - 4:30pm
Class fee $35
You will learn different techniques for quilting together your quilt top, batting, and backing. You will work with a 22-inch square sample piece - we will not create an actual project in this class.
Learn more...
---
One Fabric Kaleidoscope Quilt
2 Thursdays - Jan. 11 & 18
11am - 1pm
Class fee $48
Kit $99
Turn a border fabric into a stunning 62" x 62" Kaleidoscope quilt. Learn how to assemble the kaleidoscope block and create mitered borders. Class meets for 2 sessions.


Learn more...
---
Tiffany Quilt
4 Mondays - Feb. 5, 12, 19, & 26
10:30am - 1:30pm
Class fee $80
This quilt is a stunning masterpiece! You'll learn strip quilting, how to effectively work with 1/2" squares, and some unique block construction.
Kits are available. You must have prior quilting experience and familiarity with rotary cutting to take this class.
Learn more...
---
Binding 101
Thurs. Feb. 15
10:30am - 1:30pm
Class fee $35
Kit (including pre-quilted fabric) is an additional $15
Learn how to bind your quilted projects. You will learn how to cut both cross grain and bias binding strips and prepare them for binding.

Try out two different ways to attach your binding to your quilt (we provide pre-quilted fabric for you), and learn how to miter the corners.


Learn more...
---
Binding 102
Friday, Feb. 23
10:30am - 1:30pm
Class fee $35
This is the second class in our binding series. Adding onto the skills you learned in Binding 101, you will learn how to apply flange and piping hot binding.
Learn more...
---
Mexican Stars
3 Wednesdays - Feb. 28, March 7 & 14
2pm - 4pm
Class fee $60
This beautiful wall-hanging is made with straight seam piecing that results in a curved look. We'll show you how to use a non-permanent glue stick to help with construction.

Finished wall-hanging measures 34-1/2" by 34-1/2".
Learn more...