| | |
| --- | --- |
| | co-located with |
---



Have you heard about Baby Lock's NEW top-of-the-line serger?



The Baby Lock Triumph is everything that it's name suggests and more!
And now YOU get to experience that same sense of "triumph" yourself!

. . . . . . . .


Triumph Demo Event



Learn all about the new top-of-the-line serger and give it a test drive!





THIS Friday, September 22




3pm - 7pm





Here are just some of its amazing features:

- NEW RevolutionAir needle threading -

- Safety feature that prevents you from sewing with presser foot up -

- Large 5" throat space -

- Six LED lights to illuminate your work -

- Variable speed control -

. . . . . . . .

Please call to let us know you can join this FREE, fun event!
630-208-6789

. . . . . . . .

Can't attend, or can't wait to see the new features?



Watch this short video introducing the Triumph!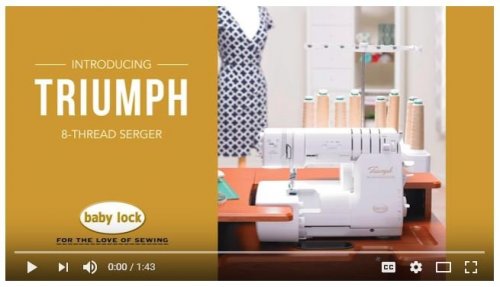 ---
Early Bird Registration ends next week
Call to sign up today!
---


We are extending our special Sale Pricing through the end of September!

That means incredible savings on the entire line of Baby Lock machines - including the six new machines that were JUST released last month:



- Intrepid 6-needle embroidery machine -




- Triumph serger -




- Aventura II sewing/embroidery machine -




- Flourish II embroidery machine -




- Presto II sewing machine -




- Verve sewing/embroidery machine -



You don't want to miss this special sale!


---



Machine Retirement Sale



Baby Lock is retiring a number of machines from their line-up to make room for the new arrivals... What does that mean for you?

Get a BRAND NEW machine at never-to-be-repeated prices!

Sales are first come, first served - so you'll want to visit sooner rather than later!
---
CLASSES
---
Frances Firefly
This colorful creation uses a jelly roll to create the five fireflies, plus fabric for background and the center and "light" of the fireflies. You'll get experience sewing half square triangles and will learn how to successfully sew on the bias.
Class takes place 4 times on Wednesdays

Oct. 11 from 1:30pm - 4:30pm

Oct. 18 from 1:30pm - 4:30pm
Oct. 25 from 1:30pm - 3:30pm
Nov. 1 from 1:30pm - 3:30pm



Skill level: Confident Beginner / Intermediate



Class fee $70
---

Beginning Quilting

Learn quilting techniques with this beginner's quilting class. You will learn how to quickly and accurately use a rotary cutter, piece strips together with a quarter inch seam, square up blocks, and add borders to your quilt top.

At the end of class you will have a completed quilt top. This class takes place over 4 sessions.

Saturday Session
Oct. 28 from 10:30am - 1:30pm
Nov. 4 from 10:30am - 12:30pm
Nov. 11 from 10:30am - 12:30pm
Nov. 18 from 1:30pm - 3:30pm

OR



Tuesday Session




Oct. 31 from 10:30am - 1:30pm




Nov. 7 from 10:30am - 12:30pm




Nov. 14 from 10:30am - 12:30pm




Nov. 28 from 10:30am - 12:30pm



Class fee $60


---
Beginning Sewing




Tuesday, Sep. 26




12:30am - 2:30pm



This is a perfect class for someone brand new to sewing or who wants to try it out before deciding on the right sewing machine.

We will provide you with a classroom machine as well as a kit with everything you need to complete this simple tote bag.

Class fee $45 (reduced price)

---
Learn to Quilt Your Project
Wednesday, Nov. 8
1:30pm - 4:30pm
You will learn different techniques for quilting together your quilt top, batting, and backing. You will work with a 22-inch square sample piece - we will not create an actual project in this class.
Class fee $35
---
Check out our FULL list of upcoming classes at

www.creativesewing.biz/classes
To register for a class, visit our store or call 630-208-6789. Class fee is due at time of registration to hold your spot in the class.
---
We love seeing your projects!



Lynn totally gets "Extra Credit" for this beautiful bag!

She made this Capri Carryall bag in Lisa's class, and then she blinged it out with some Emmaline "Handmade" hardware and a handmade tassel.

Lynn learned how to create tassels in our first Bag Ladies demo class with Denise & Lisa.

Join the "Bag Ladies" in October to learn more tips and techniques to take your bags to the next level!
---
Bag Ladies Present... Strap and Zipper Ends
Wednesday, Oct. 18
6pm - 7pm
OR
Thursday, Oct. 19
10:30am - 11:30am
Join us for the second round of our NEW monthly class all about bag-making techniques, tips, and tools!

For October, Lisa & Denise will teach you how they finish off their bags with perfect zippers every time. Whether you're installing your zipper on your sewing machine, serger, or even in your embroidery hoop, they'll have you covered.
---
Like our Facebook page to see more class and project photos!

Contact us by phone at (630) 208-6789
or visit our website at www.creativesewing.biz

Creative Sewing Center & Aunt Sassy's Quilts
11 North 1st Street
Geneva, IL 60134

Store Hours:
Mon - Fri: 10am - 5pm
Saturdays: 10am - 4pm
CLOSED SUNDAYS