---
Happy New Year!
Start the new year with some new projects and sewing skills!
---
Saturday Serger Club
Cosmetic Bag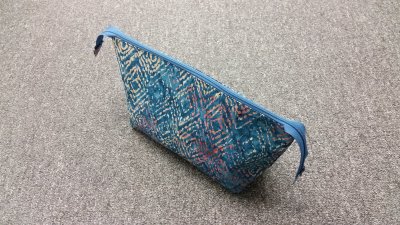 Saturday, January 7
10:30am - 12:30pm

Our Serger Club project for January is this handy and easy-to-make cosmetic bag. You'll learn how to insert a zipper using your serger, and the sturdy stabilizer you use will enable your bag to stand upright.



Please bring the following items to class with you along with your serger (they can all be purchased here in our store):





Supply List



1/3 yd main fabric

1/3 yd lining fabric

½ yd décor bond fusible interfacing

¼ yd fusible fleece

1 22-inch zipper

3 spools serger thread

Double-faced basting tape

1 spool matching regular thread (for top-stitching)

If you would like to join us, please call us ASAP to reserve your spot in class!
630-208-6789


Upcoming Serger Club dates:



Sat. Feb. 11 (1:30pm - 3:30pm)




Sat. March 11 (10:30am - 12:30pm)




Sat. April 8 (10:30am - 12:30pm)





---



Destiny Club



We're excited to introduce our NEW Destiny Club! If you own a Destiny or Destiny II sewing/embroidery machine, you will NOT want to miss this monthly club!

Our first Destiny Club will be


Saturday, January 7




10:30am - 1:30pm





Supply List

Destiny machine

embroidery arm

embroidery foot

scanning board

5x7 embroidery hoop

tear-away stabilizer (instructor likes to use Rinse Away, Tear Away)

embroidery thread (for snowman design)
- black - white - orange - brown - 2 colors for snowman scarf (will be stitching on light teal fabric)
bobbin for embroidery thread
Upcoming Destiny Club dates:
February TBD
March 4
April 1
---



ADDITIONAL CLASSES



Beginning Quilting


3 Wednesdays -

Jan. 11

, 18, 25
10:30am - 1:30pm
Learn quilting techniques with this beginner's quilting class. You will learn how to quickly and accurately use a rotary cutter, piece strips together with a quarter inch seam, square up blocks, and add borders to your quilt top. At the end of class you will have a completed quilt top.


---
Tuffet
Sunday, January 8
11am - 4pm
This tuffet would make the perfect footstool for your home! (Or a fun seat for a little one in your life!) Finished size is 18 inches across and 11 inches tall.
---

Bird Walk Block of the Month Quilt


ONLY 4 SPOTS LEFT!



6 Saturdays: Jan. 7, Feb. 4, March 4, April 1, May 6, June 3
9am - 10am (demo only; no sewing in class)



Hands-on session now available on Tuesdays:


Jan. 10, Feb. 7, March TBD, April 4, May 9, June 6
1:30pm - 3:30pm
Enjoy creating scenes of feathered friends in the wild as you piece a variety of quilt blocks, including Ohio Star, Flying Geese, Pinwheels, and more. This is a 6-month block-of-the-month class, from January to June.


---

Projects to Go Bag




Friday, January 13
12:30pm - 4:30pm

A perfect bag for sewers, knitters, quilters, or anyone who carries a lot of "stuff." With both inside and outside pockets and an optional drawstring closure, you'll be able to keep all your projects organized at home or at class.

Skill Level: Confident Beginner


---

T-Shirt Quilt




3 Fridays - Jan. 13, Jan. 20, Feb. 10
10:30am - 12:30pm



Learn how to turn your favorite t-shirts into a fabulous quilt! The pattern you will use from this book calls for 12 t-shirts, one focus fabric, and 6 additional fabrics.




---
Double Dip Quilt
3 Saturdays - Feb. 4, Feb. 25, March 18
1:30pm - 4:30pm



Take a double dip with the 60° Double-Strip Ruler from Creative Grids or use the template included in the pattern to make this beautiful quilt. Made using 2 1/2" strips - No Y-seams are needed. You will also need to purchase a pre-made kit of gorgeous batik fabrics.




---
Check out the full list of classes at

www.creativesewing.biz/classes
To register for a class, visit our store or call 630-208-6789. Class fee is due at time of registration to hold your spot in the class.