---
Come celebrate Christmas in July with Creative Sewing Center & Aunt Sassy's Quilts!
Prairie Point Stocking Class

Taught by Laurie Fujimoto, creater of the original pattern sample!

You won't want to miss this...
This lined Christmas stocking is nicely embellished with four prairie points and jingle bells on each side. It has ample room for all the holiday goodies that Santa may bring.


2 Thursdays - July 21 & 28
5:30pm - 7:30pm
Class fee: $35
Advance registration is required to save your spot in the class. Please visit us or call 630-208-6789 to sign up for this class.
Original pattern samples on display in store - once you see them in person you won't be able to resist creating them for your home!
---
The Perfect Early Christmas Present for Yourself

And bonus: think of all the great gifts you can create with it!
Offer valid only through the month of July.
Drop in anytime to see a demo on this incredible machine!
---
Scallops & Fettuccine Quilt Class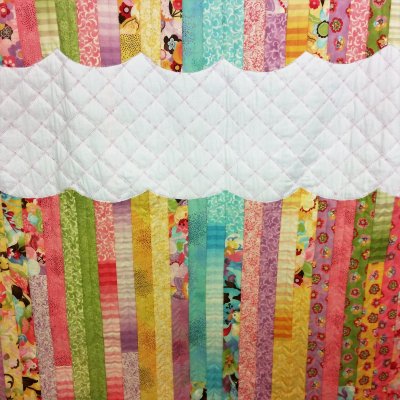 Thursday, July 21
4:30pm - 7:30pm

Class fee: $25
This large baby quilt or lap-size quilt has no pattern to follow and no little pieces to worry about losing. Just carefree sewing! Only takes about 3 hours to finish quilt top. Finished size approximately 64 x 66 inches.
Click here for more info
---
Getaway Bag Class
2 Fridays - August 5 & 12
10:30am - 12:30pm
Class fee: $35

Going away for the weekend? Grab your bag and fill it with all the necessities! Also, perfectly sized to carry your sewing machine and most of your supplies to your quilting getaway.
---
Interested in classes on quilts, tote bags, and more?
Check out the full list of classes at

www.creativesewing.biz/classes
To register for a class, visit our store or call 630-208-6789. Class fee is due at time of registration to hold your spot in the class.
---
Like our Facebook page to see more photos and info on classes, sales, and events!

Contact us by phone at (630) 208-6789
or visit our website at www.creativesewing.biz

Creative Sewing Center & Aunt Sassy's Quilts
11 North 1st Street
Geneva, IL 60134

NEW Store Hours:
Mon / Tues / Weds / Fri: 10am - 5pm
Thursdays open LATE: 10am - 7pm
Saturdays: 10am - 4pm
CLOSED SUNDAYS