---

Our store has expanded - and so have our hours!


We will now be open 6 days a week, and have added extra hours on Thursdays and Saturdays to make it more convenient for you to come visit us!
New Store Hours
- beginning May 1st -
Mon / Tues / Weds / Fri
10am - 5pm
Thursdays open late!
10am - 7pm
Saturdays
10am - 4pm
CLOSED Sundays
---
Come see our new, expanded space!
GRAND OPENING WEEK
May 16 - 21
Daily Fabric & Machine Specials
FREE Demos Every Day
Monday 5/16
Creative Grids Rulers
10:30am, 12:30pm, 2:30pm
Tuesday 5/17
Learn About Notions
10:30am, 12:30pm, 2:30pm
Wednesday 5/18
Long Arm Quilting
come anytime between 10am - 2pm
Thursday 5/19
Quilt Techniques
1:30pm, 3:30pm
Friday 5/20
"Make & Take" Mug Rug Embroidery Project*
1pm, 3pm
Saturday 5/21
"Make & Take" Mug Rug Embroidery Project*
10am, 1pm, 3pm
GRAND PRIZE DRAWING

*Please call ahead to register for the "Make & Take" Project. There is no cost, but space is limited.

---
"Pollo Loco" Chicken Pincushion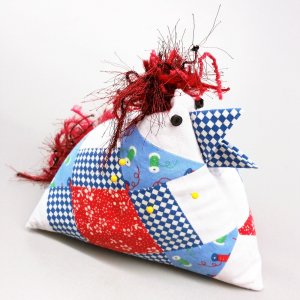 Calling all chicks to the hen house!

Using assorted light, medium, and dark fabrics, you will create your own version of this adorable chicken pincushion. Class fee of $20 includes cost of kit; pattern is an additional $9.

Thursday, May 12
6:00pm - 8:00pm


Please call or stop by to register.
We have been adding a lot of classes!

Click here to see the full list of classes.
---
Like our Facebook page to see photos and info on classes, sales, and events!

Contact us by phone at (630) 208-6789
or visit our website at www.creativesewing.biz

Creative Sewing Center
11 North 1st Street
Geneva, IL 60134

Fabrics by
Aunt Sassy's Quilts
located inside Creative Sewing Center
Store Hours: 10 - 5 Tuesday through Friday
10 - 3 Saturday
Closed Sunday and Monday